How Can You Increase Breast Milk Supply?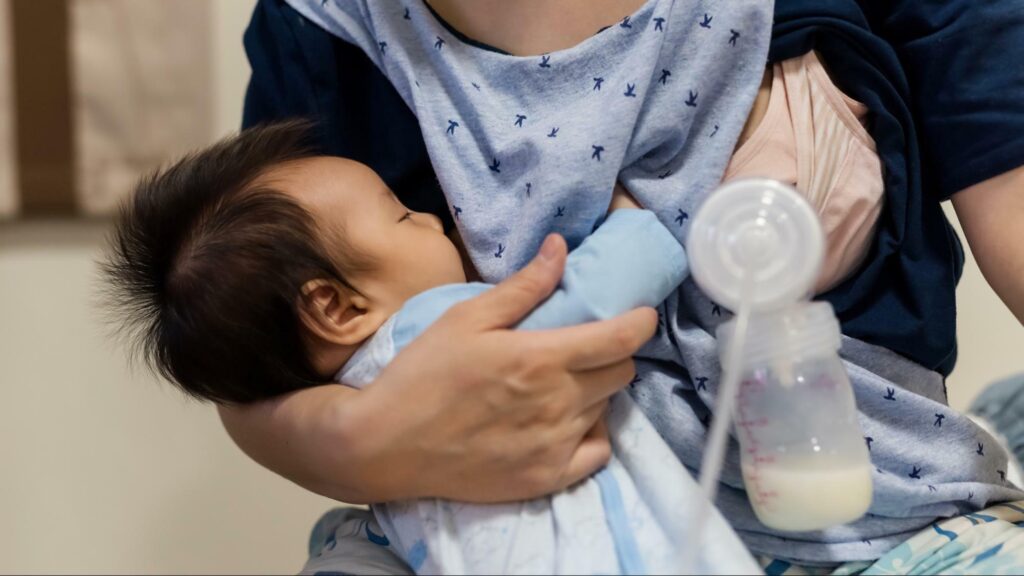 What is breast milk?
Breast milk is a liquid produced by mammary glands present in a female's breast. It starts coming in right after a woman gives birth. Most mothers choose to feed their babies directly from the breast, while others express the milk and give it to their babies via bottle.
Why is breast milk beneficial for your baby?
Breast milk is a perfect balance of proteins, fats and vitamins. It has everything that an infant's body requires and it is also very easy to digest. This is the reason why paediatricians all over the world recommend exclusive breastfeeding until the baby is 6 months old.
Breastfed babies are less likely to fall sick because breast milk contains all the antibodies that an infant requires to fight against viruses and bacteria. Breastfeeding reduces your baby's chances of developing diseases like asthma, diarrhoea, ear infections, respiratory infections, obesity, cancers and allergies when they grow up.
Breastfeeding is equally beneficial for the mother too. Firstly it helps mothers save a lot of time and money. Secondly it helps mothers lose pregnancy weight by burning extra calories. Thirdly it lowers the risk of breast cancer and osteoporosis. And last but not the least it helps mothers develop a special bond with their baby.
How can you increase your breast milk supply?
If you feel like your breast milk supply is lower than your baby's requirements you must consult the Best Gynecologist in Islamabad. If the need be they will prescribe you necessary vitamins and medications to improve your milk supply.
Other than consulting your physician these are the things that you can do at home to increase your breast milk supply:
1.    Breastfeed more frequently:
Breastfeeding is definitely tiresome especially in the initial days when you are not used to the feeding routine. But the more you feed your baby the more milk your breasts will make. This doesn't mean that you should feed your baby after every hour. It means that you must form a feeding routine and feed your baby after every two hours and let them feed for as long as they want. Feeding your baby 10 to 12 times in a day is considered fine.
2.    Try pumping milk:
If you feel like your baby is not emptying your breasts completely, you can pump after feeding them every time. This will signal your body to make more milk. If pumping after every feeding session seems difficult to you, you can start by pumping when your baby misses a feeding and move on to pumping frequently.
3.    Offer both breasts while feeding:
Start the feeding session by offering the first side and when your baby slows down or falls asleep switch them to the other breasts. Following this method offer both breasts in every feeding session. The stimulation from feeding from both sides will help your body in making more milk.
4.    Keep an eye on what you eat and drink:
Your diet matters a lot when you are breastfeeding. If you are not drinking enough water or starving yourself to lose pregnancy weight your body won't produce any milk. Lactacting mothers must drink 10 to 12 glasses of water everyday and eat a balanced meal thrice a day with two snacks between these meals.
You can also include lactation cookies in your diet to increase your breastmilk supply. Here is how you can make lactation cookies:
Preheat your oven at 175*celsius.
Soak 2 tbsp flaxseed in half cup water.
Cream 1 cup butter and 1 cup brown sugar in a bowl.
Add 3 egg yolks, 1 tsp vanilla extract and soaked flaxseed to the butter and sugar mixture. Now mix it all up.
In a separate bowl, combine 2 cups flour, 2 cups oats, ⅓ cup brewers yeast, 1 tbsp wheat germ and 1 tsk baking soda.
Now combine wet and dry mixture together using a whisk.
Give your cookies your desired shape and bake in the preheated oven for 15 to 20 minutes.
You can have 2 to 3 of these cookies daily to improve your milk supply.
If after following all the above mentioned tips your milk supply doesn't improve you must consult the Best Gynecologist in Lahore.