Demystifying Pico Laser Treatment for Melasma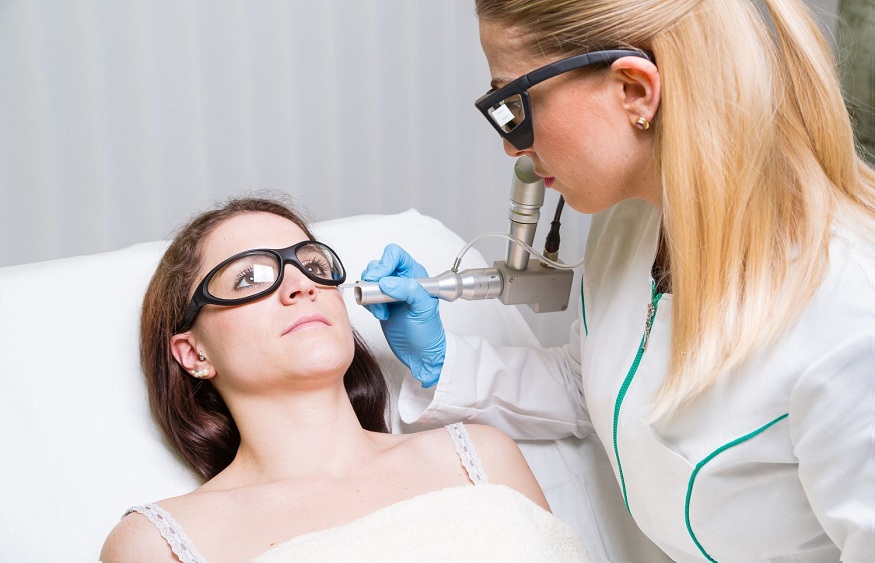 Millions of people worldwide are afflicted by the prevalent skin ailment melasma. Dark, patchy colouring of the face, particularly on the cheeks, forehead, nose, and upper lip, is a defining feature of this condition. While it is not harmful, it can be a source of embarrassment and frustration for many patients.
Over the years, various treatment options have been developed to address this condition, ranging from topical creams to chemical peels and laser treatments. Among these, Pico laser treatment has emerged as a promising option for melasma patients. However, despite its growing popularity, many people are still unfamiliar with this treatment modality and its benefits.
In this blog post, we aim to demystify pico laser for melasma, by providing an in-depth overview of its mechanism of action, its efficacy, its safety profile, and its potential side effects.
1. Break down melanin with a laser.
The laser emits high-energy pulses of light that are absorbed by the melanin in the skin, causing it to break down into smaller particles that can be more easily eliminated by the body's natural processes. This process helps to reduce the appearance of dark patches and can help restore a more even skin tone.
Pico laser treatment is a safe and effective treatment option for melasma and is commonly used by dermatologists and skin care professionals around the world.
2. Safe for most skin types
One of the key benefits of Pico laser treatment is that it is safe for most skin types. Unlike other laser treatments that can be more aggressive and potentially cause damage to the skin, Pico laser treatment is designed to be gentle and safe. It can be used on a variety of skin types, including darker skin tones, without the risk of hyperpigmentation or scarring.
This makes it an ideal treatment option for those who have struggled with melasma but have been hesitant to try more invasive treatments in the past.
3. Minimal discomfort during treatment
One of the key advantages of pico laser for melasma is that it involves minimal discomfort during the procedure. Unlike traditional laser treatments that can be painful and require longer recovery times, Pico laser treatment is designed to minimise discomfort and downtime.
The laser pulses are delivered at a much faster rate, allowing for more precise targeting of the affected areas without causing unnecessary damage to the surrounding skin. Additionally, the Pico laser is less likely to cause skin irritation or damage, meaning that patients can return to their normal activities soon after treatment.
Overall, the minimal discomfort associated with Pico laser treatment makes it an attractive option for those looking to address melasma without the need for extensive downtime or recovery.
4. Quick recovery time.
One of the key benefits of Pico laser treatment for melasma is its quick recovery time. Pico laser treatment typically allows patients to return to their normal activities immediately after the procedure. This is because the Pico laser uses ultra-short pulses of energy to target hyperpigmentation in the skin without damaging surrounding tissue.
As a result, patients typically experience minimal discomfort and redness, and can expect their skin to heal quickly and naturally. This quick recovery time makes Pico laser treatment an attractive option for those looking to improve the appearance of melasma without disrupting their busy schedules.
5. Multiple sessions may be necessary.
When it comes to treating melasma with Pico laser technology, it's important to understand that multiple sessions may be necessary for best results. While some patients may see improvement after just one session, it's common for a series of treatments to be needed to achieve the desired level of improvement.
The number of sessions required will depend on various factors, including the severity of the melasma, the patient's skin type, and their specific treatment goals. It's also important to note that spacing out the sessions is essential to allow the skin time to heal and regenerate between treatments.
Your dermatologist or aesthetician will work with you to create a customized treatment plan that takes into account all of these factors and helps you achieve the best possible results.
Final Thoughts
Pico laser treatment for melasma is an effective and safe option for those struggling with this challenging skin condition. It uses advanced technology to target the pigmented areas of the skin, resulting in a clearer, more even complexion. While the treatment may require several sessions for optimal results, the minimal downtime and low risk of side effects make it a popular choice for many patients.
It's important to consult with a qualified and experienced dermatologist to determine if pico laser treatment is right for you and to develop a personalized treatment plan. With proper care and maintenance, you can achieve a brighter, more radiant complexion and restore your confidence in your skin.