Ensuring Safe and Effective Motrin Dosing for Kids: A Parent's Guide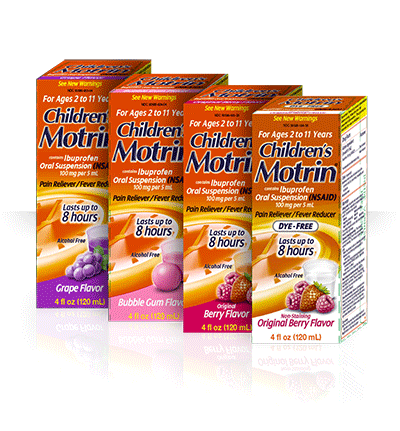 When your child is in discomfort due to pain or fever, it's natural as a parent to want to alleviate their symptoms as quickly and effectively as possible. One commonly used medication for children in such situations is Motrin, which contains ibuprofen as its active ingredient. However, it is crucial to understand the correct dosing guidelines and best practices for administering Motrin to ensure your child's safety and well-being. In this article, we will explore the proper dosing recommendations and essential considerations for using Motrin for kids.
Here we have got the Motrin Dosing Chart For Kids.
Understanding Ibuprofen and its Benefits
Ibuprofen, the active ingredient in Motrin, is a nonsteroidal anti-inflammatory drug (NSAID) that is commonly used to relieve pain, reduce inflammation, and lower fever. It is particularly effective in treating headaches, toothaches, earaches, muscle aches, and symptoms associated with common childhood illnesses like colds and flu.
Proper Dosage Guidelines
Age and Weight Considerations: The appropriate Motrin dosage for children depends on their age and weight. It is essential to follow these guidelines closely to avoid under-dosing or over-dosing.
Use Weight as a Primary Guide: When determining the correct dose, it is often more accurate to use your child's weight rather than their age. Be sure to measure their weight in kilograms or pounds, as dosage charts typically provide recommendations based on these units.
Recommended Dosage: For children older than 6 months, the general dosage recommendation is 5-10 mg per kilogram (2.2 pounds) of body weight, every 6-8 hours, as needed. However, it is always advisable to consult your child's pediatrician for specific dosing instructions tailored to your child's needs.
Read and Follow Labels: Always read the instructions on the packaging carefully and follow them precisely. Different concentrations and formulations of Motrin may have different dosing recommendations, so double-check before administering the medication.
Use the Measuring Device Provided: Most over-the-counter Motrin products come with a measuring device, such as an oral syringe or a dosage cup. These tools are specifically designed to help you measure the correct dosage. Avoid using household spoons or other improvised measuring tools, as they may lead to inaccurate measurements.
Safety Precautions and Considerations
Consult Your Child's Pediatrician: It is vital to consult your child's healthcare provider before administering any medication, including Motrin. They can provide personalized advice based on your child's medical history, current condition, and any ongoing medications.
Follow Recommended Intervals: Respect the recommended dosing intervals. Administering Motrin more frequently or in higher doses than recommended can lead to potential side effects or complications.
Monitor for Side Effects: While generally safe when used correctly, ibuprofen can occasionally cause side effects in children. These can include stomach pain, nausea, vomiting, diarrhea, dizziness, and allergic reactions. If your child experiences any concerning symptoms, discontinue the medication and seek medical attention promptly.
Avoid Overlapping Medications: Keep track of any other medications your child may be taking, including prescription and over-the-counter drugs. Some medications, when combined with ibuprofen, can cause adverse effects. Always inform your child's healthcare provider about any concurrent medications.
Conclusion
Motrin (ibuprofen) can be a reliable and effective medication for relieving pain and reducing fever in children when used correctly. By following proper dosing guidelines, considering your child's age and weight, and consulting with your child's healthcare provider, you can ensure the safe and appropriate use of Motrin. Remember, when it comes to your child's health, it is always better to err on the side of caution and seek professional advice when in doubt.